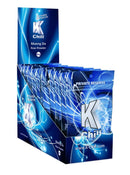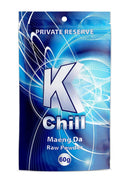 Description
K-Chill Blue Maeng Da in Powder Form - Highest quality and biggest bang for your buck.
What is K-Chill Blue Powder?
K-Chill Blue Powder is a proprietary blend of Mitragyna Speciosa (commonly known as kratom). It comes in a pouch and is in granulated/powder form.
How do I take kratom powders?
Probably one of the easiest ways to learn how to use K-Chill powder is "The Drink Mix" method - including the powder and mixing it with your favorite beverage. This masks the taste of the powder and is quite pleasant.
It's just 5 calories which also makes it helpful. Here's where people get imaginative with it. You can use any drink you like. A list of the most popular are:
Chocolate milk
Orange juice
Pomegranate juice
Coffee
Ingredients
100% Mitragyna Speciosa
My favorite so far...
The powders are my favorite for the price. I like that I can control the dosage with each use.
Thanks for the review, Becky! Glad you like the K-Chill Blue Powder.
K-Chill blue powder
By far my favorite so far. Helps with my pain and also anxiety and sleep. I would also like to say i am impressed with the quick delivery and ease to order products on K-Chill Direct. Also the rewards program is awesome! Thanks again
Thanks for the review, Jaime! We're glad the powder packs work for you! We strive to get you your order ASAP! All orders ship the same day the order is placed if before 3pm local time. Your business is appreciated.
Happy customer
The Kchill powder is convenient way to start my day, allowing me to control my dosage. So easy to order AND fast, free shipping? Win, win and win! Highly recommend KCD!
Thanks for the review on Blue Powder!
Kchill 60g maeng da
1 tablespoon with coffee in the morning definitely takes the aches and pain away :)
It certainly does! Thanks, we appreciate the Blue Powder review.
Payment & Security
Your payment information is processed securely. We do not store credit card details nor have access to your credit card information.