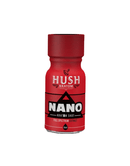 Description
Hush Nano Shot (12ct)
107-113mg mitragynine per shot faster onset, better absorbing longer lasting, better tasting.
MSRP $21.99 Per Shot
HUSH EXTRACT IS A CONCENTRATED FORM OF MITRAGYNINE, AND OTHER FULL SPECTRUM EXTRACTS.
Great Products at Great Prices
One stop shop for EVERYTHING you need concerning Kratom. Customer Service is AMAZING as well.
Thank you for the 5-star review, Christopher. We appreciate your business!
New Customer
Kratom Direct is my new go to for all my Kratom needs! They have the best offerings at the best prices. My search is over!
Thank you for the 5-star review and the kind comments, Rick. We are happy to be your kratom supplier!
Fast fulfillment and quality products
Thanks for taking the time to review us, Raul!
Order
I'm very impressed with the prices, the service, and the shipping times. I was already familiar with the product I ordered, but I just had leave a compliment on the full spectrum of the service provided. I rarely leave reviews on any website, but you guys definitely deserve 5 stars. Thank you.
Thanks for the great review and kind comments, Dustin! We appreciate you taking the time to share your experience.
Best Kratom shot on the
Best Kratom shot on the market. This is the best price too.
Thanks for the review, Stephen! We're happy to be carrying the Hush Kratom line-up. Thank you for your business.
Payment & Security
Your payment information is processed securely. We do not store credit card details nor have access to your credit card information.