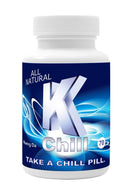 Description
K Chill Original Blue Maeng Da Capsules (Happy Relaxation) are known to give a mood enhancing effect and have quickly become the most popular capsule in the K Chill line-up! Make the Original Blue Capsules your next purchase!
Relax. Be Happy.
Contains 70 Capsules/Bottle
Convenient Capsules for on-the-go Relaxation
All Natural Herbs and Extracts
Proprietary Blend
Calming Effect
Fast Acting
Lasts Up to 6 Hours
Ingredients
100% Mitragyna Speciosa. 500 mg per capsule
Thanks for the review, Kenneth!
The Best in the Business
These guys are the best in the business for a reason. This is a great supplement to improve both mood and production throughout the day. I would highly recommend it!
Thanks for the review, William! We appreciate your business.
prob the best out of
prob the best out of the caps the blue seems to be!
Thanks for the review, Jimmy! Glad the blue caps work for you. Thank you for your business.
Not what I thought
It didnt do what I hoped it would like the shots but I will try any product to test it out
Great deal
This feels like a pretty solid deal for what you get back. You have to take a couple, but 70 for $20 works out pretty well for me.
Thanks for the review, Eric! Definitely a great value for the 70ct Caps. $30 in stores! Great discounts here at KCD.
Payment & Security
Your payment information is processed securely. We do not store credit card details nor have access to your credit card information.