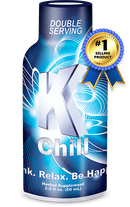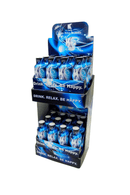 Description
K-Chill Original Blue Shots are the #1 Selling Relaxation Shot in the USA!

They're all-natural kratom-based Relaxation Shots that work as a pain reliever, stress reliever, and a natural calming drink to fight anxiety. K Chill Original Blue shots are widely regarded as the best tasting relaxation shots on the market today. With effects that are made for feeling relaxed and happy.
"The best relaxation shot I have ever had. It tastes amazing compared to the others I've tried, and lasts long. Great bang for the buck!" - Trent, Alamosa, CO.
What ingredients are in a K-Chill Original Blue Shot?

K-Chill Blue Shots contain a proprietary blend of top quality maeng da, or mytragena sepeciosa, more commonly known as kratom, to create a pleasant, and relaxing tonic.
Product Details
2oz bottle, TSA friendly
45mg of Kratom per bottle makes for a great value compared to Vivazen
Drink. Relax. Be Happy.
Pain Relieving and Stress Relieving
Fast Acting
Best Tasting Herbal Drink on the Market
Made in the USA
Good taste and quality
Top 3 best kratom based energy shots for sure.
Great comments, Raul! Thank you for the review.
Kchill shots r great!
I have tried every kratom product out on the market and these are the best!!!
Great comments, Bradd! Thanks for taking the time to write us a review.
K-Chill Blue 2oz Shot. #1 Selling Shot!
Thanks for the 5-star review, Marcia!
My items have always arrived
My items have always arrived on time if not quicker!
Best entry shot
Def the best tasting shot for new users to Kratom. My go to for chill.
Payment & Security
Your payment information is processed securely. We do not store credit card details nor have access to your credit card information.