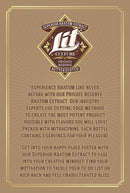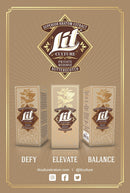 Description
This 15ml Butterscotch Kratom Extract Shot contains a potent concentration of superior quality kratom. Utilizing a meticulous extraction process, this extract has a unique flavor and exceptional strength, offering you a powerful and flavorful kratom experience.
Great Products at Great Prices
Lit culture is my FAVORITE and it packs a punch, OH can't forget the flavor is AMAZING compared to other brands out there.
Kratom Direct has THE BEST prices on the internet place 💯
I DEFINITELY RECOMMEND THIS COMPANY AND THIS BRAND. 🙌🏿
Thanks for your 5-star review, Christopher! We appreciate your business. :)
Yummy
This doesn't have the horrible taste like others. Smooth and definitely helps my chronic pain. Thank you for offering this at a fair price!
Great comments! Thank you for the 5-star review!
Hidden Gem
I am surprised there are no reviews. I will gladly be the first. I have tried everything KCD offers. This is up there at the top. I wasn't sure what to expect. It actually tasted decent, but I chase shots with coffee to help balance the taste. Within 15 minutes I was LIT (pun intended) up! This is right up there with Krave 100x, which is my #1 favorite. This might be my new favorite.
Thanks for the review, David! Glad to hear you liked this Lit shot. We appreciate your business.
Payment & Security
Your payment information is processed securely. We do not store credit card details nor have access to your credit card information.