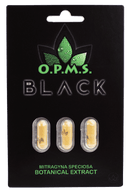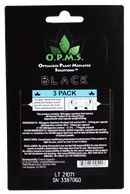 Description
O.P.M.S. Kratom has become a recognizable industry standard among kratom products. Top-Secret extraction process was developed and designed to protect the integrity of kratom s natural alkaloids.
The main difference between O.P.M.S. and other Kratom products has to do with how the alkaloids are extracted from the leaves. Most products employ a method involving hot water or a solvent. Under this process, the Kratom leaves are basically boiled out of the organic material. Research specialists have recently discovered a more effective extraction method using cold water and high pressure. With this method, more of the alkaloids are preserved, making for a better and more potent product.
OPMS Black Kratom Capsules deliver a strong punch of concentrated kratom directly to the user. This product was designed with superior portability and performance in mind. Each pack of two capsules contains organically harvested kratom, then the kratom leaves are cold water extracted to make a more concentrated form per capsule.
Description
O.P.M.S. Black Kratom Extract.
O.P.M.S. ® Black Capsules
Optimized Plant Mediated Solutions Black Products.
The all-natural, pure product will quickly become a favorite among our customers. Get the full spectrum extract experience with O.P.M.S. Black.
O.P.M.S. has developed a process of extraction matched by no other brand.
O.P.M.S. Black extract is an all-natural product.
Ingredients:
Mitragyna Speciosa (Kratom) leaf extract 50:1 – 310mg per capsule
(Mitragynine content 48%) – 148mg per capsule
(7-OH-Mitragynine content -<2.5%) – <7mg per capsule
Other Ingredients:
Vegetable Starch, Gelatin Capsules.
great product and great service
great product and great service
Thanks for the review, Michael! We appreciate your business.
Payment & Security
Your payment information is processed securely. We do not store credit card details nor have access to your credit card information.